Pipes and cable
Here you will find metal detectors and metal detectors that specialize in locating cables, underground pipes and large objects that are deep underground.
In industries such as civil engineering, mining and underground cabling, it is important to be able to accurately map the underground landscape to avoid accidents and errors when digging and drilling. Can't find what you're looking for? We sell all kinds of metal detectors. Contact us and we will help you find exactly what you are looking for.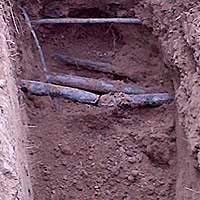 ---
Construction and digging - avoid hazards below ground
In the construction industry and mining, safety is a priority. Cables, underground pipes and other large metal structures hidden underground can pose serious hazards if not detected in time. Improper drilling or digging can lead to damage, loss of critical infrastructure and costly repairs. Metal detectors are critical tools to minimize risk and increase efficiency in these industries.
Technology and benefits
Our metal detectors for cables, underground pipes and large objects in the ground are equipped with advanced technology that enables fast and accurate detection of metal objects, even when they are deep in the ground. Their high sensitivity and precision make them indispensable as tools to avoid wrong digging, protect existing infrastructure and simplify planning and drilling.
These metal detectors can be adapted to detect different types of metal objects and can be used in a variety of ground conditions. They provide users with real-time information and sound/light alarms to quickly indicate when a metal object has been detected, enabling the necessary actions to be taken to avoid damage or workflow disruption.
Explore our range
Explore our collection of metal detectors for cables, pipes and large objects in the ground and let us help you choose the best detector for your specific projects. Whether you work in the construction industry, mining or any other field where navigating underground is essential, our professional metal detectors offer the precision required to protect and streamline your work.
We can help get what you need to make sure you have the best tools to avoid risk and maximize the efficiency of your projects. Contact us if you need guidance, support or want to know more.