Mancovers & boarders
Here you will find our range of metal detectors that will locate and find manhole covers and boarder marks underground. In the underground networks of sewers and water pipes, it is crucial to be able to identify and locate metal components such as manhole covers and boarder marks. On this site we offer several metal detectors designed to navigate below the surface of the ground and effectively detect these critical infrastructure elements.
If you're not finding what you are looking for or want a metal detector that is out of stock, please contact us and we will help you. We also hold courses in metal detecting, both at a professional level and for metal detecting at hobby level.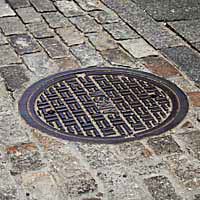 ---
Metal detectors for manholes, covers and boarder marks - navigate underground
In urban planning and community infrastructure, manholes, covers and boarder marks are crucial components of water and sewage systems. Their location and condition is critical to maintaining drinking water supply and sewage disposal. However, sometimes they can become damaged, lost or buried underground, making it necessary to use specialized metal detectors to locate and identify them.
Technology and benefits
Metal detectors for manholes, covers and boarder marks are equipped with advanced technology that is specially designed to be able to detect metal objects even when they are buried. Their high sensitivity and precision make them essential tools for urban planners, contractors and maintenance personnel.
These metal detectors are adaptable and can be used in a variety of ground conditions, including hard soils and muddy areas. They can quickly and accurately locate well caps, boundary pipes and other metal components, saving time and resources.
Explore our range of detectors
Explore our collection of metal detectors for manholes, covers and boarder marks and let us help you choose the best metal detector for your project. Whether you work in urban planning, the construction and civil engineering industry or maintaining water and sewage systems, our specialized metal detectors offer the precision required to navigate underground and secure your infrastructure.
With our metal detectors, you can be sure you have the best tools to maintain and protect the critical infrastructure that keeps our communities running. Contact us if you need guidance or more information.