Accessories
Here you will find all our accessories for the metal detectors. Optimize your metal search with coils, bags, trowels, batteries and much more. 
On this page you will find our extensive range of metal detector accessories, where you will find everything you need to optimize your metal search. Whether you are an enthusiastic amateur, working professional, an experienced archaeologist or a security manager, our metal detector accessories are designed to make your work easier, more efficient and more productive. Explore the different accessories available. Are you missing something? We can bring out most things. Contact us for guidance and help.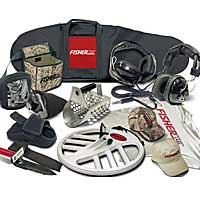 ---
Accessories for metal detectors
Headphones are an indispensable accessory to hear the sound signals from your metal detector clearly. Our headphones are of high quality and designed to give you the best sound experience during your metal detector mission.
To accurately locate and unearth your finds, you need the right tools. Our shovels and digging tools are specially designed for metal detectors and come in different sizes and shapes to suit different terrains and tasks.
Our pinpointers are perfect for quickly and accurately locating metal objects that you have detected with your main detector. They allow you to find your finds quickly and easily, saving you time and energy.
Our high quality batteries are designed to keep your metal detector and other devices running for a long time. You can be sure that your equipment is always ready for use.
To protect your metal detector and accessories during transport and use, we offer a wide range of covers and cases. These protect your equipment against weather, wear and tear.
On this page you will find different types of chargers for different metal detectors.
Here you will find small parts and sundries for all types of repairs or replacement of parts.
We have a large variety of search coils for every conceivable need.
Here you will find spare parts and new shafts for various types of metal detectors.
We have a variety of ski plates that you can choose from here.
In order for you to stay dry and warm and be able to be outside in different weather conditions, we have here a large amount of suitable clothing and accessories.
Our metal detector accessories also include metal sorting tools and reference materials to help you identify and assess metal objects you have found.
We've got you covered
Whether you're engaged in treasure hunting, archaeological excavations or security operations, our metal detector accessories provide the tools and resources you need to succeed.
Explore our extensive range of accessories and let us help you choose the right equipment for your purpose. Contact us if you have any questions or cannot find what you are looking for. We can bring out most things.