Security detectors
Metal detectors for police work, security and airports including Walkthrough metal detectors - increase safety and security
Welcome to our page dedicated to metal detectors which are essential tools for police and security personnel including airports. In law enforcement, security work and crisis operations, fast and reliable detection of metal objects is a central part of ensuring the safety of the public and the safety of workers. Here you will find metal detectors specially designed for police and security purposes. Feel free to contact us to get more information about how these metal detectors are crucial for increasing safety and efficiency in various situations.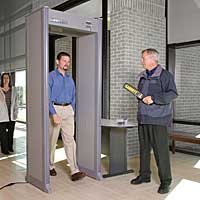 ---
Metal detectors for police work, security and airports including Walkthrough metal detectors
Safety work - where every second counts
In police and security work, a second's delay or a missed metal object can have serious consequences. Metal detectors for police and security work, including walkthrough metal detectors for airport checkpoints, are designed to quickly and accurately detect weapons, explosives and other dangerous objects. Their high sensitivity and precision make them important tools for protecting the public and preventing crises.
Airport control - gatekeeper to safe aviation
At airports, security is of utmost importance. Walkthrough metal detectors act as gatekeepers to aviation by carefully scanning travelers and their luggage to detect any prohibited items such as weapons and other threats to aviation security. These metal detectors are strategically placed at airport entrances and departure gates to ensure that no hazardous metal is brought into the aircraft cabin.
Technology and benefits
Our metal detectors for police work, security work and airports are equipped with advanced technology that enables fast and accurate detection of metal objects. They are easy to use and can be adapted for different applications, including scanning at entrances, crowds or in demanding areas such as prisons and airports.
These metal detectors also offer real-time information and sound/light alarms to quickly indicate when a metal object has been detected. This enables the police, security personnel and airport staff to act quickly and take the necessary measures.
Explore our range
Explore our collection of metal detectors for security work and airports, and let us help you choose the best metal detector for your specific needs. Whether you work in law enforcement, the security industry or at an airport, our specialist metal detectors offer a reliable and effective solution to maintaining the safety and security of people and places.
With the metal detectors we provide, you can be sure that you have the best tools to carry out your work efficiently and safely. If you do not find what you are looking for, we can take it home for you. Contact us for more information and support.