Beach and shallow water
Metal detector that likes to detect on the beach and even in water. Waterproof down to 3 meters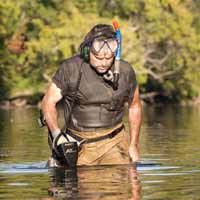 ---
Metal detectors for beaches and shallow water: discover treasures at the water edge
Beaches & shallow waters: natural treasure troves
Beaches and shallow waters have always been popular places to stay. And they are also places where people accidentally drop jewelry, coins, and other metal objects. These natural coastal treasure troves are filled with opportunities to find lost treasures that have been forgotten over time.
Metal detectors for beaches and shallow water are created to work in harsh conditions and withstand contact with salt water. Their sensitivity to small metal objects makes them ideal for searching for lost jewelry and other treasures that may be hidden in the sand or underwater.
Technology and benefits
The metal detectors we offer for beaches and shallow water are equipped with advanced technology that makes it possible to adjust the sensitivity, filter out disturbing signals and identify different types of metals. Their waterproof properties make them perfect companions for swimming and underwater treasure hunting and can handle a depth of up to 3 meters.
Explore our collection of beach and shallow water metal detectors and let us help you choose the best metal detector for your coastal adventures. We share your passion for discovering hidden treasures at the water's edge and are happy to guide you in purchasing a metal detector. Contact us if you want personal advice.