Underwater detectors
Metal detectors for diving. These detectors will perform down to 60 meters. Vibra Pinpointers down to 30 meters.
Waterproof metal detectors are indispensable tools for treasure hunters, archaeologists, divers and other enthusiasts to discover objects that may be hidden on the bottom or along water edges. Our range of waterproof metal detectors makes it easy to choose the one that best suits your needs, whether you are a beginner or an experienced user.
We offer a range of waterproof metal detectors that vary in performance and features. Our goal is to provide you with the information and expertise you need when choosing your metal detector. Read more on each product for technical specifications, areas of use and the advantages of the leading products on the market.
Whether you are looking for a metal detector for recreational diving or advanced professional projects, Guldström is the right place to start your search. Let us help you find the perfect tool for your needs.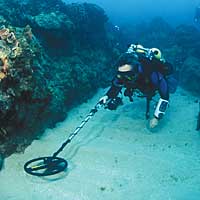 ---
Waterproof metal detectors for diving and underwater use
The underwater world has always fascinated us with its mysteries and hidden treasures. Lost jewelry, shipwrecked cargo, historical finds and much more can be found at the bottom of the ocean. Discovering these treasures requires waterproof metal detectors that are built to withstand the challenges presented by the marine environment.
Waterproof metal detectors have become an indispensable tool in a variety of disciplines. These metal detectors are designed to withstand moisture, immersion in water and harsh environmental conditions, making them ideal for detecting objects that may be hidden beneath the water's surface. Below we look at some important aspects to consider when choosing the best waterproof metal detector for your purposes:


Water resistance: A key feature of waterproof metal detectors is their ability to function underwater. They can vary in water resistance, from rain-resistant models that can withstand light moisture to fully submersible diving detectors that can withstand pressure under water.

Search depth: Different models have different depth limits. It's important to choose a metal detector that matches the type of environment you plan to use it in, whether it's in shallow water, on the beach, or in deep water.

Detection technology: Waterproof metal detectors use different detection technologies, including pulsed induction (PI) and very low frequency (VLF). Each technology has its own advantages and limitations, so it's important to choose a model that suits your needs.

Uses: Consider your specific uses when choosing a waterproof metal detector. Should it be used for treasure hunting on the beach, diving in the sea, or searching for lost objects in lakes and rivers?

Brands and models: Here on our product page you will find a wide range of metal detectors from different manufacturers, including well-known brands and the latest models on the market. We offer detailed information on each product to help you make an informed purchase.
Technology and benefits
Our waterproof metal detectors for diving and underwater use are equipped with advanced technology that makes them ideal for working underwater. Their waterproof construction and robust materials ensure they keep water out, even in the most demanding conditions.