Archeology
Explore a wide range of archeological metal detectors and equipment for your excavation projects. Discover quality metal detectors, excavation tools, sieves, brushes, and more. Unearth the secrets of the past and embark on fascinating archaeological adventures with confidence.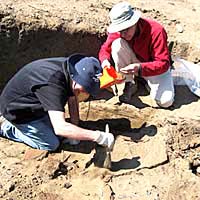 ---
Metal detectors for archaeological purposes
Welcome to our page dedicated to metal detectors for archaeological purposes. Here we offer a collection of high quality metal detectors specifically designed to meet the needs of archaeologists, historical researchers and heritage conservationists. With our wide range and technical expertise, we aim to be a reliable supplier of equipment for discovering and documenting historical finds.

Metal detectors for archaeological work are designed to be sensitive to metal objects and can be instrumental in discovering and mapping historical sites, antiquities and objects of cultural historical value. Here are some important aspects to consider when exploring our range and choosing the best metal detector for archaeological purposes:

Sensitivity and precision: Archaeological metal detectors are designed to be sensitive and accurate in the detection of metal objects. It is important to choose a model that can detect both small and large findings with high precision.

Discrimination and identification: Many metal detectors for archaeological purposes have advanced features that make it possible to discriminate and identify different types of metals. This is especially important when searching for specific types of findings. Learn more about discrimination here.

Search areas and terrain: Consider the terrain and locations where you will be using your metal detector. Some models are more suitable for use on land, while others are designed to work in harsh environments such as forests or fields.

Data collection and documentation: When carrying out archaeological work, it is important to be able to document your findings carefully. Some metal detectors come with built-in data logging functions that facilitate this work.

Brands and models: Here on our product page you will find a wide range of metal detectors for archaeological purposes from different manufacturers. We provide detailed information on each product and are here to give you the knowledge and expertise you need to make an informed choice.
Technology and benefits
Our metal detectors for archaeological purposes are equipped with advanced technology that enables precision and the ability to detect metal objects at different depths in the ground. Their high sensitivity and customizable settings enable archaeologists to efficiently locate and excavate historical finds without losing valuable information.
These metal detectors are easy to use and can be adapted for different types of terrain and research projects. They offer real-time information and sound/light alarms to indicate when a metal object has been discovered, enabling archaeologists to accurately document finds and their exact location.
Whether you are an experienced archaeologist or a curious researcher, our goal is to help you find the best metal detector that fits your requirements to carry out accurate and valuable archaeological work. Explore our range and let us guide you. Do you need personal help? Contact us!